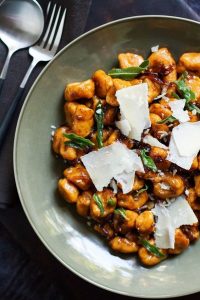 Temperatures are starting to fall and September has arrived. We are moving into the magical climate of autumn! To celebrate this autumn weather pumpkin gnocchi are perfect! It is a really simple dish to realize that will surprise all guests.
Ingredients
• 500 gr of pumpkin pulp
• 100 gr of flour
• 1 egg
• 30 grams of butter
• 50 grams of grated Parmesan cheese
• sage
• pepper
• salt
Method
Clean the pumpkin by depriving it of filaments and rind. Cut it into slices and put it in a pan previously coated with parchment paper. You will need about 500 grams of clean pumpkin. Cover the pumpkin with another sheet of parchment paper and bake at 180 ° C for about twenty minutes. Remove from the oven and let it cool. Then reduce it to pulp with the vegetable mill.
Arrange the puree on parchment paper in a pan and bake it again at 110 degrees, until it dries well and reaches a pasty consistency. Flour a pastry board well. Make a small fountain with the flour, add the pumpkin puree and start to mix everything. When the dough begins to become workable, the egg is also joined together. Knead well with your hands until the mixture is no longer sticky. Prepare the gnocchi by forming cords with the dough rotating them on the plane with the help of the hands.
Cut them into small pieces the size of a peanut. As you prepare the gnocchi, flour a little with semolina and flour and cover with a cloth. Put the water to boil, add salt and dip the gnocchi. They will cook in about 3 minutes. You will know when they will come back. Then drain and place them directly in a saucepan with butter and some sage leaves. Stir well, adding grated Parmesan and a generous chopped pepper and serve.
The wine to match
Semplci and delicious! Pumpkin gnocchi is an extremely tasty dish. Especially if accompanied by a good wine! Since the pumpkin is extremely sweet, it goes well with the acidity of the cheese. To ensure that the wine helps you to appreciate the aromaticity of your pumpkin-based dish, choose a wine that contrasts this sweetness. A white with strong acidity and effervescence, for example, which also has a good structure required by the sweet tendency of the pumpkin and the light succulence and greasiness of the dish. So we will opt for a sparkling or sparkling wine.
Good day!
Ilde