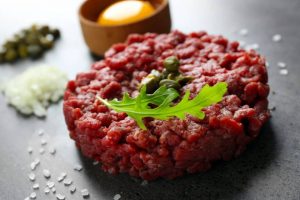 Good morning my special followers …
Shall we prepare a quick but amazing recipe? I would say that the meat tartare done with the variant of gin and crispy capers always wins!
Come on let's not waste time chatting, get yourself these delighting ingredients and you will amaze your friends.
Ingredients for 4 persons
600 g of Fassona meat
2 fine spring onions
4 tablespoons of gin
1 lime
4 tablespoons extra virgin olive oil
1 loaf of bread
2 tablespoons of salted capers
peanut oil for frying
salt and pepper
Preparation
Have the tartare cut by your trusted butcher. Or do it yourself, you jus need to cut the meat into tiny cubes.
In a bowl, mix the gin with the olive oil, a pinch of salt, a grind of pepper and the lime juice. Then wash the spring onions and slice them very thin. Put the tartare in a bowl and toss with the gin mixture and the spring onions. Once done put the tartare in the fridge to keep it cool.
Slice the bread and toast the slices until they are golden on both sides. Desalt the capers in running water and dry them perfectly. Heat the peanut oil in a saucepan, fry the capers for a few seconds and drain them on absorbent paper.
Divide the tartare into four portions, garnish with the green part of the spring onions and the fried capers; serve it with the croutons.
Wine pairing
The wine pairing is very interesting.With this tartare I would suggest a red like Sassabruna 2018 from Rocca di Montemassi winery.
Buon appetito and see you soon!
Elisa