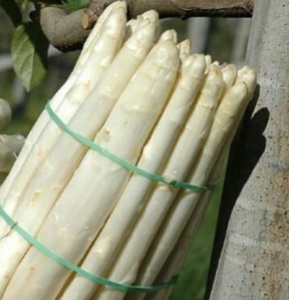 Ciao!
We are in May, the month of asparagus that I adore, so I'm sorry if this week, too, I share with you a recipe with asparagus. I promise that from next week I will change the main ingredient.
This week I decided to share my mom's asparagus risotto recipe. We all know that no one cooks as well as their mom, and who am I to contradict this thought? My mom's asparagus risotto is so delicious.
Here is the recipe
Ingredients for 4 persons
4 glasses full of rice ( water glasses)
A bunch of asparagus (about 500 g), both white and green, ones are fine
1 litre of vegetable broth
1 white onion
a nice handful of parmesan cheese
extra virgin olive oil
salt
pepper
Preparation
Clean the asparagus well, peel and cut them into small pieces; save some tips for decoration. Peel and finely chop the onion.
Pour some olive oil into a saucepan and add the onion to smother; once the onion is nice and soft, add the raw asparagus and let them soften too; season with salt and pepper. Since the asparagus is fresh, this step only requires a little bit of time, 15/20 minutes at the most. If necessary, add a little water.
If you don't have much time, you can do this step (cooking the asparagus) the day before, or you can even cook the asparagus in multiple portions and freeze them so that the sauce is always ready when needed.
But back to the recipe … once the asparagus is done, add the rice and let it toast for a few minutes. Then cook the rice using the vegetable stock.Five minutes before the rice is cooked, add the asparagus tips you had set aside for decoration; since the asparagus tips are very tender, five minutes are enough to make them soft and in harmony with the risotto.
Once the rice is cooked, please remove it from the heat, mix it with a nice handful (even two) of parmesan cheese, and enjoy your meal.
It's a simple but delicious recipe that will surely win over the whole family and/or your friends; of course, we must pair it with good wine, right? Well, for this risotto, I would accompany it with a Pinot Bianco such as Vulpes from the Del Poggio winery, but also  with a Pinot Grigio, I suggest Bervini's or a Sauvignon, and here I would recommend Blazic's
Well, enjoy preparing this recipe and let me know if you liked it and the wine combinations I proposed!
ciao
Monica