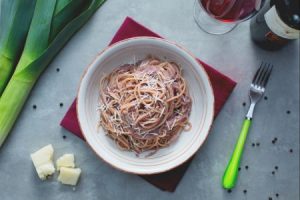 The drunken pasta is a great dish for when you have to prepare dinner for your friends and you do not know what to do. This is a simple and quick spaghetti-based recipe to prepare! But above all that all the guests will love. In this recipe, the protagonist in addition to spaghetti is the Merlot Red Wine. The combination may seem strange, but you'll definitely like it!
Ingredients
– Spaghetti 500gr
– Porro 100 gr
– Butter 30 gr
– A pinch of sugar, salt and black pepper
– Grated and grated Pecorino romano (about 120gr)
Method
To prepare this dish you will need about 15-20 minutes and the doses are for four people.
Start by taking a pan and melting the butter over medium heat. In the meantime wash the leek thoroughly, taking care to remove any dirt and to eliminate the external part. Now cut it finely and when the butter is melted, add the leek to the pan. After a few minutes, blend it with the Merlot red wine.
Depending on your taste, put a pinch of sugar, salt, black pepper and grated nutmeg in the pan. Cook for a few minutes, until the wine is partially dry. Once the right cooking is done, pour the contents of the pan into a mixer and blend it until you have a smooth cream. Take a pot to cook the spaghetti. When the spaghetti is cooked, drain and pour into the pan, together with the freshly blended mixture.
In order not to let the spaghetti dry and continue cooking, add a little cooking water to the pan. After a few minutes turn off the heat and put the grated pecorino.
Alternatives
If you want to decorate it, serve the Spaghetti all'Ubriaca with 10-20 g of flaked pecorino cheese. Or you can also decorate it with some leek rings, previously scalded in boiling water for a few minutes. The original recipe includes spaghetti, but you can also use short pasta. On the other hand, you can substitute Merlot red wine with, for example, Barbera, Barolo, Brunello di Montalcino or Chianti.
If it suits your personal taste, try to make this recipe and let me know if you liked it! I already have mouth water!
Good day
Ilde